PRESIDENT'S MESSAGE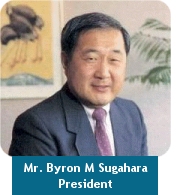 For more than thirty years we have undertaken the mission of providing world-class ship management services to our clients, and have demonstrated to the maritime industry the level of excellence that "world class" implies. It is our goal not merely to meet our client's expectations, but to anticipate and exceed them.
Fairfield-Maxwell Services Ltd. (FMSL) provides to our clients responsive, professional and individualized ship management services and, in doing so, strives to achieve an increasing level of safety and cost effectiveness while exceeding international regulations and marine industry standards.
Our ability to perform as we do depends on our team of dedicated personnel who bring with them their wide experience both at sea and ashore. They have committed themselves to ensuring a continued high level of safety and performance by both ships and crews, and their success in this regard is evidenced by the excellence in schedule conformance of FMSL-managed ships.
A primary component of FMSL's service philosophy and an important element of our ability to provide the best in reliable, safe and environmentally responsible ship management services is our focus on ensuring that all of our clients receive the meticulous individual attention and effort needed to identify and meet the specific requirements of their particular operation as well as the more general requirements incumbent on all operators. Our emphasis on individualized attention to our clients' needs will continue to support our standard of providing world-class excellence in ship management for those clients.


Capt. Peter Johansen, Chief Operating Officer
Pete has been a licensed Deck Officer for more than 28 years. He has experience in sailing on chemical tankers, product tankers and container ships. He began working for Fairfield-Maxwell in 1996 with both their Reefer Express and Great American Lines companies. Prior to joining FML, Pete worked for Sea-Land Services for 8 years serving as a Marine Superintendent. As a Captain in the US Naval Reserve, Pete has experienced two mobilizations during Operation Iraqi Freedom. In 2003 he was Commanding Officer of the Military Sealift Command Office in Iskenderun, Turkey and in 2007 he assumed similar duties in Kuwait.

Dan Valvano, Senior Vice President Finance
Dan joined the Fairfield Group in 1981 where he served as Vice President and Controller of Reefer Express Lines Ltd. through 2000. Since then he holds the position of Senior Vice President of Finance of Great American Lines, Inc.

Prior to joining the Fairfield Group, Dan's finance and accounting experience in the shipping and transportation industry included the position of Vice President of Finance for the Atlantic Container Division of Seatrain Lines Inc. and various other positions with Sea-Land Services, Pan Am Airways and American Airlines. Dan also has several years of public accounting experience with Arthur Young (now Ernst & Young) in New York.

Svend Hansen, Technical Manager
Having completed a course at Gothenburg Merchant Marine Engineering School, Svend began his maritime career in 1967. He sailed on commercial vessels for 16 years where he rose from engine cadet to Chief Engineer. Svend's experience also includes diesel service manager in a marine repair company, and has been contracted to MAN/B&W on several occasions to direct major engine rehabilitations and installations on several ships. Svend joined the ranks of FMSL in 1998.
David Duncan, Purchasing Manager
David has over 15 years experience in marine purchasing and has held procurement positions with general ship suppliers, ship owners, ship managers and US Government Contractors. From working for these various companies, David brings a broad range of knowledge in all aspects of vessel requirements.

Richard Soos, Chief Accountant - Finance
Rich joined the Fairfield Group in 1993 and is the Chief Accountant for Fairfield-Maxwell Services, Ltd. He is responsible for the financial reporting to our corporate headquarters and various shipowners.

Prior to joining Fairfield-Maxwell, Rich worked several years in the corporate offices of Kerr Steamship Lines as a staff supervisor of vessel accounting. His experience working with a ship agency helped him understand the unique qualities of ship's finances.

Todd McCleary, Communications Manager
Todd has a BS degree in Nautical Science/Marine Transportation from the U.S. Merchant Marine Academy and began working in the operations department for a related Fairfield-Maxwell group company in 1985. He is presently serving as the Assistant Vice President of our sister company Great American Lines, Inc and has also been the communications manager for FMSL since 2001.
Sharon Atieh, Office Manager
Sharon joined Fairfield-Maxwell Services, Ltd. as the Administrative Assistant in 2003 and then was promoted to Office Manager in 2009 for both Fairfield and its sister company, Great American Lines, Inc. She manages all administrative, office and employee related matters for the staff of both firms as well as assisting the Chief Accountant at FMSL & Chief Financial Officer at GALI in the processing and payment of invoices. In addition, Sharon is responsible for the tracking of daily movement of the fleet of vessels managed by FMSL ,all crew related matters including flag state personnel document filings, VISAs as well as correspondences to and from each ship and the submission of various weekly vessel reports. Prior to joining the company, she was employed with a biomedical consulting firm where she worked for 12 years